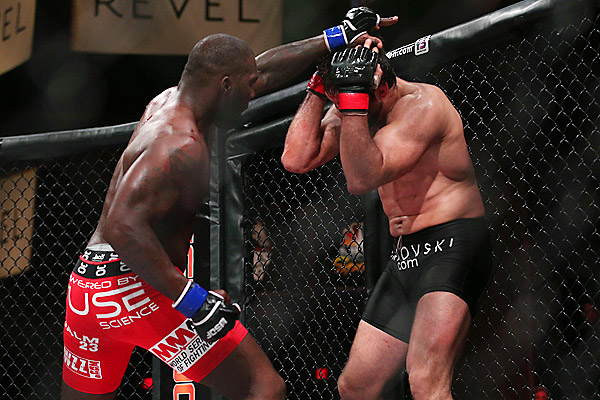 When an MMA event is on the horizon, there are so many aspects of the event itself that many look forward to.  Some look forward to the Q & A sessions.   Maybe it's the press conferences followed by the staredown one would look forward to. Autograph signings?  Meeting other fans from their social networking site of choice?
To those of us who are considered the hardcore fans that support our rising sport, numbers play a huge factor in our divine appetites feed hunger that lies deep in the hippocampus portion of our brains.   Time of finish and in what round, attendance, and live gate.  However, in recent times, viewer ratings have been increasingly crucial asset to promotions for assorted reasons.
World Series of Fighting 2 had taken place last Saturday, March 23, 2013, with a headliner that consisted of former UFC Champion Andrei Arlovski vs. Anthony "Rumble" Johnson.  Since saturday's event, many hardcore fans and media outlets had eagerly anticipated the viewer numbers of the event, given the enormous amount of buzz it received on the internet.
It was reported by a few of the high profile MMA sites that WSOF 2 had an average of 210,000 viewers on the host TV station, NBC Sports Network.  To me, why only report the average when most typically the UFC or Bellator get the respect of having their peak numbers reported?  I know that there are a ton of eager fans who would want to learn these figures.
For you, I have provided below and breakdown of the WSOF 2 viewership chart in 15 minute increments from the Live start time of 9:30pm EST all the way through the ending of the midnight re-air of the event.  I made an attempt to place the chronological events as close to the times as possible to help everyone who reads this post makes sense of it all.  Feel free to examine:
Live Airing of WSOF 2 (Time slot labeled with * annotates peak viewers of program):
9:30pm EST = 84,000; Kicked of the event, promo, hyping up the card
9:45pm = 138,000; Justin Gaethje vs Gesias "JZ" Cavalcante begins and ends in 1:27 of R1.
10:00pm = 138,000; Josh Burkman vs. Aaron Simpson begins and ends shortly after the hour.
10:15pm = 172,000; Prelim aired
10:30pm = 223,000; David Branch vs. Paulo Filho begins and goes all 3 Rd's
10:45pm = 200,000 Promo
11:00pm = 262,000 Marlon Moraes vs. Tyson Nam begins and ends shortly after the hour in R1
11:15pm = 193,000 Prelim aired?
11:45pm = 332,000* Johnson vs. Alovski begins shortly before time slot and goes to decision edging out the time slot.
Re-Air of WSOF 2 (Time slot labeled with * annotates peak viewers of program):
12:00am = 177,000*
12:15am = 159,000
12:30am = 132,000
12:45am = 111,000
01:00am = 162,000
01:15am = 118,000
01:30am = 171,000
01:45am = 151,000
02:00am = 146,000
02:15am = 150,000
02:30am = 88,000
Total peak numbers total up to 510,000 viewership rating for NBC Sports Networks broadcast of World Series of Fighting 2. Those are better than great numbers for a promotion who just put on their 2nd event.
As I wrote this to you, I've also just received a text from WSOF officials who tell me that Jon Fitch vs. Josh Burkman will headline World Series of Fighting 3 that will take place in June.
-Dizz
@TalkMMA on twitter