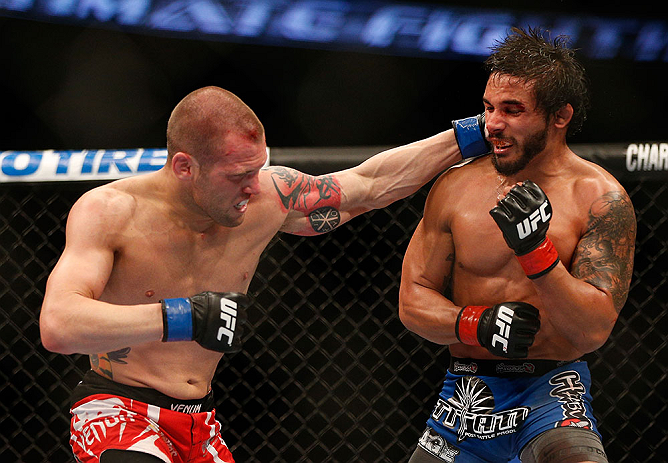 "Hey bro whats up!?!?  Just started back training.  I had a knee surgery a couple months ago.  How are u?"
When I received that text from Matt Grice 6 weeks ago, I never thought I'd be composing this kind of article nearly 6 weeks from his UFC 166 outing with fellow UFC Featherweight Jeremy Larsen Oct 19.  In fact, I was in a state of conviction thinking that Matt Grice was close to getting back on the winning track.
However, I received an inquiry from a fan on twitter (@seumaskeith) in regards to Matt Grice.  After doing some digging around, I discovered that the Oklahoma wrestling icon, well respected City Police Officer, had been involved in a car accident at around 4pm yesterday.  According to reports, Grice was at a red light behind another vehicle, when another vehicle had rear ended him into the vechicle in front of him.
The driver who hit Grice was treated and released.  Grice on the other hand, like many of his fights in the cage, is refusing to go down with out a fight.  Grice had to have surgery to drain excess blood from his brain.  While in post op, Grice's best friend Daniel Rubenstein took to twitter to state, "Hes out of surgery. Was told his pupils are small which means there is brain activity. Wont know more til Tomorrow AM."
Today, Grice is still being monitored closely in the Intensive Care Unit of the Oklahoma University Presbyterian Hospital in Oklahoma City.   From a close friend of mine, Amber Matthews, who works in the medical field, I was informed I shouldn't be alarmed by Grice being immediately shipped to the ICU post op.  It's hospital protocol after all neurological surgeries.
Grice's condition is listed as "confidential" per say the Oklahoma City Police Department.  I contacted their department today and was able to have Sergeant Jennifer Wardlow send me the authentic statement:
"On Sunday, Sept 8th, at approximately 4pm off-duty Officer Matthew Grice (age 32) was involved in a serious multi-car accident in Shawnee, OK (accident investigated by Oklahoma Highway Patrol).  The accident left him in critical condition.
Officer Grice was transported to an Oklahoma City hospital ,where his status is currently listed as confidential.  The Grice family has asked for privacy as they deal with this sudden and unfortunate situation.
Officer Grice has been with the Oklahoma City Police Department for 5 years."
Captain Dexter Nelson
Office of Media Relations / Chief Spokesman
Oklahoma City Police Department
Stay close to my twitter for updates at @TalkMMA