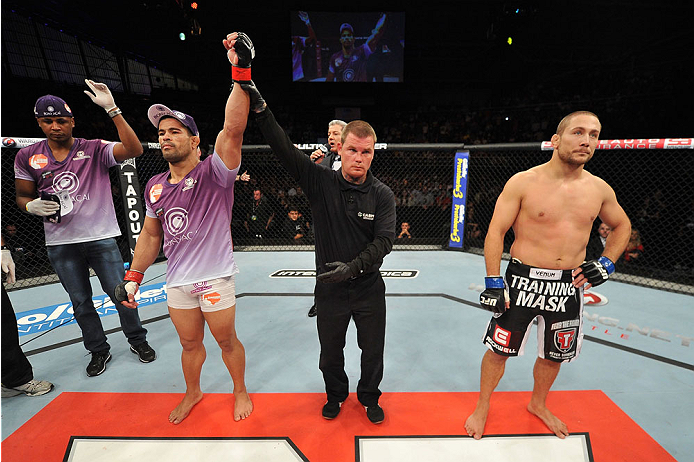 It's been a long drawn out process for the MMA community awaiting word on UFC welterweight Mike Pierce's injury to his left leg.  Just a few minutes ago I was able to get a short statement from Team Sports Lab Coach Phil Claud on some clarity of the issue.
"Mike will know the extent of the damage to his knee and ankle tomorrow after his evaluation. He will be receiving an MRI with one of Oregon's top Orthopedic Surgeons." said Pierce's long time coach.  Claud felt a personal and professional responsibility for Pierce as he does for all the fighters he coaches.
Claud went on to state, "I, as his coach, take total responsibility for the game plan that put Mike in a career ending situation.  Mike will be back to fight another day but the unfortunate fact is that he is in fact injured."
As we all know and don't have run it through the ground, Pierce fell victim to yet another mishap involving Rousimar Palhares, as a submission was held on to, much time after the referee had waved off the bout last Wednesday at UFC Fight Night 29 in Brazil.  Palhares since has been suspended 120 days by the Brazilian Athletic Commission, had his $50,000 Submission of the Night bonus stripped, and eventually cut from the UFC.
"At this time, Mike needs the support of all MMA fans, friends, and family so he can return to do what he loves to do and that's fight in the UFC." Claud further stated.  I tried to reason with Claud a bit and assure him that game plans are always constructed by coaches and that he had no fault in the extended and unnecessary hold of the leg lock.  Then a sign of relief when he said, "Highest of highs and the lowest of lows."
I think Team Sports Lab's Phil Claud will be just fine.  He's as tough as the boys that he coaches.  Unfortunately, for Mike Pierce, it seems unavoidable.  He is injured and will have to take some time off to recover.
Best wishes to you, Mike.
(photos courtesy of ufc.com)